21/03/23
Found this in some txt files...it was in "pets corner" before: In march i had an idea to buy or find a new pet.But i don't have much money and i can easily forget that i have something to care of :DD.At first i wanted to buy a rat(CAUSE,GUYS,THEY ARE SO COOL NGL).But after i saw how active they are,i understood that they won't be so happy living with me. I like to just have something and don't care about it much.So, i started to search the internet for something exotic and calm.And here i found out about stick insects!!I bought 3 insects and they're still alive(wow).I tried to give them funny names, but they were too much similar first months,so i couldn't remember who is who.But the one was really different.He had just four legs ,because two more broke because something scared him :( As time flew by,he grew two legs back.He is the smallest one in my stick insects family.There are also the biggest one(and the most obedient),and middle one(he's just basic). --------- They all died btw :))
10/03/23
02:37 am lol: I'm so attached to internet rn. i understand that i have no one who cares about me irl, and yes i love my internet friends, so much, but.. u know, why there's no one around me when I need support in real life? when i want to hang out or smth? I'm trying to make myself look like interesting person with some goals in life, but no one cares actually B) "love" those night thoughts, they won't let me sleep >:((( Okay, to not leave this day as a depressed one, I'll tell something else ig.i have an idea to post some of my screenshots from roblox to a shitposting page, because what else is more likely shitpost than it,lol.And some new nice artworks i have for an art page.i kinda love them really,most were made for my friends.(it may seem like i have a lot,but nah, actually 1-2 friends if they're even replying.) so yeah, there would be updates soon, but for now i just felt like writing something here. Like, c'mon, it's called diary page, so i can text whatever i want :DD. Going to sleep now and dying on lessons because I'll be sooooo sleepy!! :))
14/02/23
Happy Valentine's day everyone^^
23/01/23
That was a nice day.But the evening wasn't that good, ehhhh... Gotta change some things in my life as soon as possible :v
19/01/23
Had the most number of hits yesterday ,whyyy I haven't updated my website for a while '-'
30/12/22

I need to change my art style

I need to change my art style

I need to change my art style

I need to change my art style

I need to change my art style If i even have one,lmao
29/12/22
Hmmm that's New Year soon, and it's my own business to buy a present for myself, or i won't get one D:. I'm kinda lazy now,but soon I'll update shitpost page, and there would appear some memes or other internet stuff, idk. Sad news!!:All stick-insects are dead.And I'm saving one of them for putting it into epoxy resign. Poor guys, i loved all three of them so much:( But life sucks so... And i guess my fish are going to die soon too, they all kinda look ill, but I'm not very sad, cause if I'm lucky, then I'll found them dead before they rot somewhere in a fish tank. Not mentioning all these things, I've started to feel quite happy lately,life is getting brighter.
15/12/22
I just remembered, that in summer i could hear trains before falling asleep.Now it's winter and windows are always closed, so I can't really identify any sounds. Maybe it still is, but really really quiet.And there was also a bird(??) or something that made creaking sound which I don't know how to describe. It was much alike sound of an old swing.A creepy thing about it, is that this sound happened at night, never in the daytime.
13/12/22
I feel sick, so no big updates for a while.Stay healthy!!:p (Actually, forget about it, I'm still writing stuff here,lol)
4/12/22
Really nice day.Went for a walk with my friend, we ate in a restaurant.I don't visit restaurants much so i love to do it sometimes. My crazy question to CaptainHowdy in Tumblr is declined i guess, but i do understand why,so it's not much of a problem.I just choose strange ways to find friends, the question was smth about it) So if u are here for some reason and want to talk,anyone really, u can write to me in any social media,i will never bite :). One more stupid thing about today.I bought funny-looking plushie which u can check on my Pinterest. That was an impulsive action to buy it, but i like to make stupid decisions,so yeah. And i got rid of my dreams html file for a while,i just don't have enough motivation to write about my dreams now.May recreate it later.May not.Idk either. Good night!! Or, well, it's day for u maybe..
3/12/22
I truly think this is funny how filter recognised one more person behind Neil-- And i also send it to Neil himself, I'm brave as f/ck B) (BTW I'm going to maybe create one more html file just for uploading my dead animals which most are resting in epoxy resign)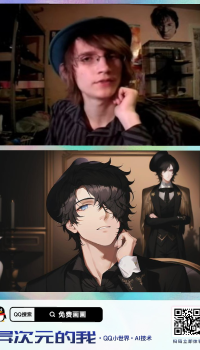 1-2/12/22
10k views.Wow. And one more dead pet,yellow ternetiya fish this time.
30/11/22
Adopt-shops keep not accepting my adopts. I'm slowly going insane, i tried to draw smth looking good five times, and it's still not good enough for them :l. I want to buy a spider so bad.Like yeah real one, i want SO BAAAD... There is only one seller quite far away from me in the city, so it's quite complicated. I guess my only way is to talk with parents about it(so they could drive me here)but they still laugh about it and nothing more.I feel like a very very young child now.
01/11/22
There weren't any updates for a while, i apologise :(.Hmm, what's new in my life..Well,i finally cut my hair in october,now it's short.I had mallet for a while,but my hair is quite fluffy and thick and it's very complicated to go without ponytail or anything like that with medium length hair. For a period of time in summer 2021 (when i was going threw my tomboy arc) i had very short hair,and i really loved it,but i'm too lazy to go to the hairdresser every 2-3 months. I tried to shoot some birds outside, it didn't went well.Earlier i shoot rats and it was quite fun,but there aren't any rats anymore( I made a ring with that orange mushroom i found in woods,maybe it's going to slowly rot in an epoxy resin.. And one more interesting thing is that i found my catfish's bone in a fish tank. I thought that fish was alive..I should better look after my pets haha.. Ok,i guess it's all for now. Now,I'm going to learn some jurisprudence sh/t for helping guilty people in future. Byeee!!!

5/10/22
how to talk to people

18/09/22
Hiii!!! I feel okay, just came from a walk. I love to go outside when it's late, i guess it's my favourite time of day. There aren't any people and i feel like I'm just a ghost, who's wondering around.The weather was extremely cold a week before, but now it's better.I feel a bit sick,so maybe I'll skip some school lessons.My classmates and teachers won't care anyway. I'm thinking about creating a new page , where i will upload all of my dolls i had made. I'm so proud of how many people found them looking good, that made me love them more. Recently i took some pictures with me and dolls, and i found myself looking creepy with all these creations around,haha. Especially with my Gabriel (from mandela catalogue) plushie. He isn't the most positive character at all.I have some dreams to upload to the dreams section.I noticed that I can't remember much dreams when i have school tomorrow day. Otherwise i remember much more when it's weekend.Oh, also, i had found a white feather on another side of a window. I like to think about it ,like that is some kind of a sign from above. I googled that white feathers almost always mean good things in future.For now, that's all. Thank u for staying here, thanks every new follower for follow. I notice everyone. Good luck, byeeee <з
3/09/22
Hi!!!First school day this year was quite okay, not mentioning that i spent 8 hours at school. Really, it's easy to get used to school when you should be here for that long at FIRST DAY. I found a guy in telegram, who was interested in my rock-collection.But he doesn't answer me two days.Guess that's the end,haha.I want to make a meme animation so bad,but knowing how much time should i spend for this doesn't make me feel good.Maybe I'll make it one day.I tried a 'replay'function in picsart, and I really like it.It makes editing much easier. Thanks for reading it(if you did). I appreciate it.
3/08/22
I made some rings of epoxy resin, i'll try to upload them to my art place tomorrow.Well, i feel okay,everything is alright, i had some pretty interesting dreams.I'm trying to be very productive before school starts next month.On August 1 or 2 i tried to reanimate a bird, which my cat bited.But it was a stupid desicion to believe that the bird could be alive, cause its ribs were able to be seen. And he lost some blood before i came.Eh... Well, i buried it and cut off one wing. Idk why,i just like how they look like.I'll put it somewhere as a weird decoration element and a reminder of my stupid actions.
29/07/22
Want to cut my hair so badly T-T. I've got a friend,who has the same haircut for her whole life, i would never be able to understand how. I often want to change something.
26/07/22
I was making a clown boy all day.There are still things i could make better, but maaan,i love the result so much!!!His head, feet and hands made of clay, and the other of cloths,not mentioning decoration elements. I also made one more complect of head,feet and hands for other one handmade doll.But i'll make it later, i'm tired of making that one. But it was worth it, i love him.I'll come up with a name soon.He looks pretty much mischievous and curious.
25/07/22
I took some nice pics today.When i was in a mall i saw a grown man. He was looking at a model of a town with a wide childish smile on his face.It looked kinda cute.
24/07/22
Made Nyon plush(from ranfren). You can check him and more plushies in my pinterest :).
22/07/22:
Almost whole day i was working with that web site and watched others' web sites.It was a pretty chill day anyway, i did nothing exhausting.I have to get ready to my school exams and it's so fckng boring i've got better things to doooooo...Okay, i won't talk about school much, just gonna pull myself together and study some subjects someday.Better to do that as soon as possible...BORINGGGKGK. Okay, bye, i'm going to sleep for a while :)